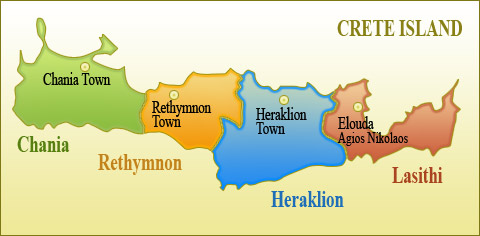 Heraklio is the largest town in Crete and also the capital of the prefecture. Due to its geographical position, Heraklio is the administrative capital and the transport hub of the island, with an international airport and a seaport. It lies just outside Knossos and near Phaistos.

Chania is situated on the western part of the island. The landscape varies in Chania prefecture; there are exotic sandy beaches with crystal clear seas, high green mountains, gorges, like the famous gorge of Samaria as well as traditional mountain and coastal villages.

Rethymno lies between the White Mountains and Mt Psiloritis and borders to the prefectures of Hania and Iraklion. The prefecture has excellent beaches, picturesque mountain and seashore villages and famous resort centres.